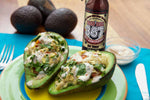 This quick and easy recipe for two pulls together beautifully.
It's a light dish and perfect for summer days. And, it may just be the best way to use leftover chicken when you can't imagine another boring meal. Now, we do know that you were always told not to cook avocado. But, we're telling you to give it a bash… because the results are incredible. Want to make it a meal?
A side salad and a glass of white wine may be all you need.
Ingredients
1 large Avocado
2 cups white chicken meat, cooked and shredded
1 cup Spinach, finely chopped
10-12 Cherry tomatoes, quartered
¼ cup Plain Greek yogurt and 2 tbsp. Greek yogurt, divided
1 Egg
¼ teaspoon Garlic powder
¼ teaspoon Salt
¼ teaspoon Pepper
1/8 teaspoon Cayenne pepper
1 teaspoon Mad Dog 357 Gold Edition Hot Sauce
1 tablespoon Milk
 Preparation
 Preheat oven to 350°F and line a baking tray with foil.
Cut the avocado length-ways in half and carefully remove the pit. Scoop out the middle of each avocado half making sure to leave about ½ inch of avocado in the skin. Place the removed avocado into a large mixing bowl and mash. Add chopped chicken, spinach, tomatoes, ¼ cup Greek yogurt, egg, and spices. Mix well.
Fill each avocado half with as much of the stuffing as possible and place them on the baking tray. Bake for 10- 12 minutes, or until warmed through.
Whilst avocados are cooking prepare sauce. Whisk together 2 tablespoons of Greek yogurt with 1 teaspoon Mad Dog 357 Gold Edition Hot Sauce. Whisk in 1 tbsp. milk or until you get the desired consistency. When avocados are done, drizzle with yogurt hot sauce and serve immediately.