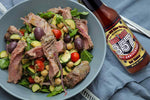 This super simple salad makes the most of leftover steak
Or makes a freshly grilled and sliced steak even better. The fresh flavors of the veggies, on the other hand will come alive with our burning Mad Dog 357 Gold salad dressing and it will dance on your tongue until every single bite is gone.

Don't be surprised if you find yourself reaching for a slice of bread to sop up any remaining dressing.
That's exactly what we did as soon as this photo was taken.

Serves: 4-6
You'll need:
1-2 teaspoons Mad Dog 357 Gold Edition Hot Sauce
½ cup Greek salad dressing
2 medium zucchinis, sliced
½ red onion, thinly sliced
½ cup pitted Kalamata olives
1 can (15 oz.) garbanzo beans, drained and rinsed
2 cups baby spinach
1 cup cherry tomatoes, halved
1 pound thick steak (your favorite cut), seasoned, grilled and sliced
salt and pepper, to taste


Preparation
Combine the Mad Dog 357 Gold Edition Hot Sauce with the Greek salad dressing in a small bowl and set aside.

Meanwhile, combine the remaining ingredients in a salad bowl and toss to combine. Pour over the Mad Dog 357 Gold Greek dressing mix and toss through. Chill in the fridge the flavors a chance to combine or serve straight away.