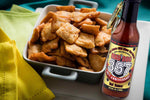 Of course, it's way easier to pick up a bag of pizza rolls from the grocery store.
But, even when you add a drop of Mad Dog to each one before popping into your mouth, they're nowhere near as good as these.
Really.
Meat, cheese, Mad Dog, pizza sauce – all deep-fried. It's like a perfect combination. No, actually, it is the perfect mix.
Now, okay, you will need to put a little effort into these blazing bites of pizza goodness, but since this recipe makes about four dozen, you'll have plenty for the freezer. (And, they heat up just as easily as the originals.)
Mind you, we're not saying they'll last that long. But only because they're so unbelievably delicious that you'll find a reason to binge eat them like it's your job.
Ingredients
½ pound Italian sausage, cooked, cooled, and finely diced
1 tablespoon Mad Dog 357 Gold Edition Hot Sauce
¼ pound Mozzarella, shredded
½ cup Pizza sauce
1 package Egg roll wrappers (you may not need all of them)
a few tablespoons Water
Vegetable oil, for frying
Preparation
Prepare the Italian sausage in advance to give it time to cool. (And, feel free to substitute chopped pepperoni or cooked, cooled, and chopped bacon if that's more your speed.)
In a mixing bowl, combine the sausage with the Mad Dog 357 Gold Edition Hot Sauce, cheese, and pizza sauce. Set aside.
Lay an egg roll wrapper on your work surface, keeping the remaining wrappers covered so they don't dry out. Use your finger or a pastry brush to spread the upper surface of the egg roll wrapper with water.
If you have a ravioli mold, lay the wrapper onto it to complete the following steps. If not, just laying them flat works as follows.
Scoop teaspoonfuls of the Mad Dog meat mixture into little piles on half of the egg roll wrapper. Be sure to leave enough space between each teaspoonful of filling. Fold the other half of the egg roll wrapper over the part with filling. With your finger, press down firmly on the wrappers to seal them between the filling. If you need, add just a little more water to completely seal the edges.
Use a knife (or, better yet, a pair of kitchen scissors) to cut the pizza rolls into squares (or rectangles). Again, be certain the edges are sealed. Set pizza rolls aside on a baking sheet.
Repeat until all the filling has been used. Heat a few inches of oil in a wok or large, wide-mouthed pot. When a bread cube browns within 40 seconds, the oil is hot enough. Gently lower (or if you're using a wok, slide) pizza rolls into the oil, one by one, pulling them out to drain on a clean baking sheet when they're golden and crispy.
Serve hot, allowing some to cool before freezing them so you have the best anytime comfort food.