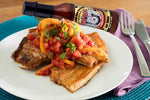 You need this recipe in your life.
You may not even realize it, but you do. It's got everything that's good for fall eating, including Mad Dog hot sauce. This pork chop recipe serves four, and if you've got kids you plan to feed with this, it's super simple to divide the spicy veggies before you add the hot sauce. Just make sure you remember which one is which when serving. This is one meal you don't want to miss out on.
Yes, that good… and easier to make than you may imagine.
Ingredients
4 each Pork chops
Sea salt and freshly ground black pepper
1 tablespoon Olive oil
1 tablespoon Mad Dog 357 Gold Edition Hot Sauce
14.5 oz. can diced tomatoes
2 medium sweet bell peppers, seeded and thinly sliced
3 stalks Green onions, sliced thinly
1 teaspoon dried oregano
Preparation
Preheat your oven to 350 degrees F. Line a baking dish with foil or baking paper and set aside.
Season the chops, to taste, with sea salt and black pepper. Heat the olive oil in a large skillet over high heat. When hot, add the pork chops. Brown on each side (about two minutes before turning), then transfer to the baking dish.
In a bowl, combine the Mad Dog 357 Gold Edition Hot Sauce with the remaining ingredients and season with salt and pepper, to taste. Heap the Mad Dog mixture onto the chops and place the baking dish in the oven. Bake for roughly 35 minutes, until the pork is cooked and tender. (Then get ready for compliments.)