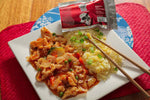 Yes, we know you can get this from just about any Chinese restaurant
It will never be as good as this recipe is. (Plus, you're totally skipping the MSG, which is always a bonus.) And, it's definitely the way you want to celebrate Chinese New Year. It's super tasty and addictive.

We definitely think these dried chilies are what make it extra special. It's a departure from the normal Bird's Eye Chilies found in this dish, but it's way, way better with the special flavor found inside. Don't believe us? Just give it a try.

Oh, and a word of advice… this recipe goes really quickly once you heat the oil in the wok, so make sure you have everything close – including your hungry crew.
Happy New Year!


Ingredients
2 each Chicken breasts, boneless (about 6 ounces each), cut into 1" cubes
Oil, for deep frying

For the marinade
1 tablespoon Soy sauce
1 teaspoon Dry sherry (Chinese rice wine)
2 teaspoons Water, cold
2 teaspoons Cornstarch

For the sauce
1 tablespoon Dark soy sauce
2 teaspoons Light soy sauce
1 tablespoon Rice vinegar
1 tablespoon Chicken broth
3 teaspoons Sugar
½ teaspoon Salt
3-4 drops Sesame oil
1 teaspoon Cornstarch

For the stir fry
½ each Mad Dog 357 Dried Naga Peppers, chopped
2 cloves Garlic, minced
1 large Onion, cut into wedges
2 each Carrots, cut into thin slices
½ cup Peas (fresh, canned, or frozen and defrosted)

Combine the ingredients for the marinade in a shallow bowl. Add the chicken and place in the fridge to marinate for half an hour.

Meanwhile, combine the ingredients for the sauce. Cover and set aside.

When the chicken is ready, heat the oil for frying in a wok over a high heat. Slide the chicken into the wok and fry for about a minute – until the chicken separates and turns white. Remove chicken from the wok and drain all but a few tablespoons of oil from the wok.

Add the Mad Dog 357 Dried Naga Peppers to the wok and stir-fry for a minute, then add the garlic and fry for an additional 30 seconds. Then, stir in the chicken, add the sauce, onions, carrots, and peas and stir until the sauce thickens. Serve hot with rice.