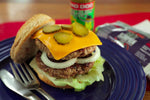 It's not difficult to imagine that Bill Clinton's favorite food is Jalapeño Cheeseburgers. 
We could say that he likes it hot, or go the more diplomatic route and remind everyone that his wife is famous for schnacking on fresh chili peppers day and night.

And, when that's all that's available on the menu, a Jalapeño Cheeseburger sounds pretty good. We've just taken it one step further in this Scorpion burger. The recipe makes four and you'll definitely want to make a few extra. They may be scorching.
They're super addictive.


Ingredients
½ each Mad Dog 357 Scorpion Pepper Pod, finely chopped
1-½ pounds Ground beef
1 tablespoon Garlic, minced
1-½ teaspoons Kosher salt
8 thin slices Pepper Jack cheese
½ bottle Mad Dog Green Amigo Hot Sauce
4 each Hamburger buns, split
Hamburger toppings, to your liking

Preparation
Preheat your broiler and line a baking sheet with foil. Set aside.

Mix the Mad Dog 357 Scorpion Pepper Pod with the ground beef, garlic, and salt. Form into four hamburger patties and set on the baking sheet. Place in oven and cook for about 4 minutes on each side (until browned on both sides). Place a slice of cheese on top of each patty and broil for 30 seconds to a minute until melty.

Assemble burgers with your favourite hamburger toppings and plenty of Mad Dog Green Amigo Hot Sauce.