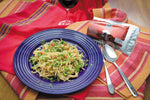 That's right, only one pot and plenty of fire.
And, it's filled with all sorts of cheesy, creamy goodness in addition to our Naga Morich peppers. Basically, it's the winter warmer recipe that you've been waiting for.
You're welcome.
Serves: 4You'll need:
4 tbsp. butter
6 cloves garlic, minced
¼ Mad Dog 357 Naga Morich pepper, cut into thin slivers
1 cup dry white wine
2 cups chicken broth
8 ounces spaghetti
½ tsp salt
½ cup milk
¼ cup parmesan cheese
1 cup frozen peas
¼ cup fresh parsley, torn
¼ teaspoon freshly ground pepper
Preparation
Melt the butter in large, heavy-bottomed pot over medium heat. Add the garlic and Mad Dog 357 Naga Morich pepper slivers and cook for 1-2 minutes, stirring regularly. Add the wine and broth and stir to combine.
Add the spaghetti and allow to boil. As the pasta falls below the top of the pot, reduce the heat to low and cover the pot. Cook for roughly 10 minutes until the pasta becomes tender. Add the milk and cheese and stir to combine, then add the peas and continue cooking over low heat until everything is heated through.
Serve topped with the parsley and ground pepper.