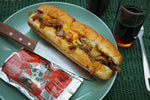 You want this.
You want this now. And, yes, you'll want this tomorrow too. That's what happens when you blend our reaper peppers with steak and cheese and pile it into hoagie rolls.

And, you can get this on the table in less time that takes to pick up not-so-fiery cheese steaks from the nearest restaurant.


Now you want this more.


Serves: 4
You'll need:
1 tbsp. olive oil
¼ Mad Dog 357 Reaper Pepper, cut into small slivers
1 onion, sliced
1 lb. thinly sliced, trimmed ribeye steak
½ tsp each: salt and pepper
4 tbsp. BBQ sauce
8 slices American cheese
4 hoagie rolls, sliced open

Preparation
Heat the oil in a large skillet over medium-low heat. Add the Mad Dog 357 Reaper Pepper slivers and the onions and cook until the onions have become caramelized, about 10-12 minutes. Remove from the skillet and transfer to a plate (it's okay if a few reaper slivers remain).

Turn the heat up to high and add the steak in a single-layer to the skillet. Cook for 3 minutes on the one side, then flip. Season with the salt and pepper. When the meat is cooked, return the reapers and onions to the skillet, along with the BBQ sauce. Stir to combine, then divide into 4 portions and top each with 2 slices of cheese. Turn the heat off and place a lid over the skillet for 2-3 minutes to melt the cheese.

Scrap the cheese steaks into the hoagie rolls and enjoy all the fiery, cheesy goodness.