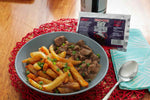 This dish might be most popular in South Africa.
It has its roots firmly planted in Portuguese cuisine. None of that matters, of course; it's all about the crazy, rich flavors in this stew-style beef dish. That and the extreme fire from our Scorpion peppers.

You've never wanted anything so desperately as this recipe. Really, as it simmers on the stove, you'll dive in with a spoon time and time again, worried you're not leaving enough for your hungry brood. Don't worry, it doesn't take that long to make. And you can always make more.
In fact, you'll probably find Trinchado ingredients on your shopping list week after week.


Serves: 4
You'll need:
½-1 Mad Dog 357 Scorpion peppers, finely chopped (wear gloves!)
½ teaspoon each: salt, black pepper, paprika
3 tablespoons Worcestershire sauce
1 pound beef tenderloin, cubed
3 tablespoons butter
1 onion, sliced
4 cloves garlic, minced
1 tablespoon flour
½ cup each: beef stock, red wine
French fries or dinner rolls for sopping up the delicious juices

Preparation
Combine the Mad Dog 357 Scorpion peppers with the spices and Worcestershire sauce in a mixing bowl. Add the beef and toss to coat. Cover the bowl and place in the fridge to marinate for at least 2 hours.

Melt a tablespoon of butter in a large saucepan over medium-high heat. Add half the beef, draining the excess marinade as you work. Reserve the excess marinade. Brown the meat, then transfer to a bowl. Add another tablespoon of butter, allow it to melt and then add the remaining beef. Brown and add to the rest of the beef.

Add the remaining butter, then add the onions. Cook, stirring regularly, for 5 minutes, until softened. Add the garlic and cook for 1 minute. Reduce the heat to medium-low. Sprinkle the flour over the veggies and butter. Cook, stirring regularly for 2 minutes until the mixture becomes thick.

Pour in the stock and wine along with the reserved marinade. Stir to combine. Once the sauce begins to thicken, simmer for 10 minutes, stirring as needed. Return the beef to the pan, reduce the heat to low and simmer for 20-25 minutes. The beef should be tender and cooked through. Serve hot with fries or rolls – and your favorite Mad Dog hot sauce on the side.