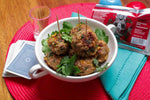 You'll need finger foods that you don't actually touch with your fingers when you're playing cards all night long.
These Albondigas fit the bill perfectly. The 16-20 meatballs this recipe makes is enough to line the stomach before you start lining your pockets.
And, they've got one hell of a reaper bite too.


Ingredients
Olive oil, for cooking
1 each Onion, chopped
4 cloves Garlic, minced
¼ each Mad Dog Reaper Pepper, finely chopped
1¼ pounds Ground beef
¼ cup Cilantro, chopped + more for serving
1 teaspoon Cumin
1 tablespoon Paprika
1 teaspoon Cayenne
Salt and pepper, to taste
¼ cup Masa harina (or substitute finely crushed tortilla chips)
½ cup Cotija cheese, crumbled, divided (or use Parmesan which has a similar texture and not such a strange flavor)
¼ cup Chicken broth

Preparation
Heat a glug of olive oil in a large skillet over medium heat. Add the onions and cook until soft. Add the garlic and cook until fragrant. Remove from the heat place into a mixing bowl.

Add the Mad Dog Reaper Pepper along with the beef, cilantro, spices, masa harina, and half the cheese. Mix and form into 1" meatballs.

Heat the pan (feel free to use the same) and add a little more oil if needed. Shallow fry meatballs until they're a little crispy on all sides. Add the broth, cover and cook - reducing heat to low if needed.

When the meatballs are cooked through, transfer the contents to a serving dish and sprinkle over the remaining cheese and cilantro. Serve with toothpicks and plenty of cold beer.