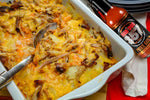 This super-easy-to-make potato casserole
It is everything you've ever wanted – and, yet, it's the chicken that convinced us to create this.
We're absolutely in love with the way everything comes together in the oven – and the way every single bite tastes. You might want to add a dollop of sour cream or a couple of sliced scallions when you serve it, but as it is, we'd call it complete.
And, if you're looking for another reason to make this tonight, how about the fact that you can have it in the oven in less than 10 minutes while you busy yourself with, well, anything else you want to do while it cooks.
Ingredients
5 tablespoons Butter
5 tablespoons Flour
1¾ cups Milk
1 teaspoon Mustard
3-5 tablespoons Mad Dog 357 Pure Gold Hot Sauce 
Salt and pepper, to taste
large baking potatoes, cut into thin slices
4 cups Pepper Jack cheese, shredded
Rotisserie chicken, shredded, skin and bones discarded
Preparation
Preheat your oven to 350°F. Take out a casserole dish and set aside.
Heat the butter in a saucepan over medium heat. Whisk in the flour and, when combined, the milk. Then add in the Mad Dog 357 Pure Gold Hot Sauce  and mustard. Bring to a boil, then reduce the heat and allow the sauce to thicken. Season, to taste, with salt and pepper.
When the sauce is ready, spoon a thin layer on the bottom of your casserole dish, layer with half of the potatoes, then half of the chicken and half of the cheese. Repeat the layers, reserving extra sauce and cheese for the final layers.
Cover with foil, then place in the oven for 1 hour. Remove the foil and bake for another 30 minutes until the casserole is golden brown and bubbly.