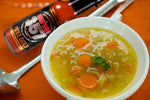 There's always plenty of bird leftover after Thanksgiving.
Turkeys are just so big. Of course, you're going to make some soup with it. And this is one of the best. We chalk it up to the ghost peppers in our Mad Dog 357 Pure Gold Hot Sauce. It just brings through all the awesome flavors in the veggies. It may even make you forget you're eating turkey for the fourth day in a row.
This soup serves about six people, but you can add more water to stretch it further or use a little less turkey to reel it in a bit.
Ingredients
2 tablespoons Butter
2 stalks celery, washed and sliced thin
1 medium Onion, diced
1 cup Carrot, thinly sliced
2 cloves Garlic, finely chopped
8-12 cups Chicken stock (or turkey stock if you have it)
1 teaspoons Mad Dog 357 Pure Gold Hot Sauce
3 cups cooked turkey, chopped
5 each Celery leaves
1½ teaspoons Sea salt, to taste
1 teaspoon Black pepper, to taste
Preparation
In a large pot, sauté onions, garlic, carrots, and celery in butter over medium-high heat until soft. Add the garlic and cook for 30 seconds. Pour in the stock, then the Mad Dog 357 Pure Gold Hot Sauce. Add the turkey, celery leaves, and season to taste. Cook until heated through and serve.