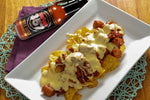 This is exactly the sort of recipe you could find in ballparks across the country.
And for damn good reason; it's freaking amazing. Dogs, chili, cheese, nachos. Now you can make it at home – and we know you'll find an excuse. If you're generous, you can get 6 servings out of this.
We know you're not, so plan on just four.
Ingredients
1½ pounds Ground beef
¾ cup Onion, minced
1 teaspoon Mad Dog 37 Pure Gold Hot Sauce
1 clove Garlic, minced
1 can (6 oz.) Tomato paste
1 tablespoon yellow mustard
1 teaspoon Worcestershire sauce
2 teaspoons Brown sugar
1½ cups Water
Salt and pepper, to taste
1 pack (12 oz.) Hot dogs cut into ½-inch pieces
2 tablespoons Butter
2 tablespoons Flour
1½ cups Milk
¼ teaspoon Smoked paprika
8 ounces Cheddar Cheese
Tortilla chips
Preparation
Cook the beef in a large pan over medium heat. Stir to break up the meat and add the onions when the beef is nearly browned. Cook until onion is soft, then add the Mad Dog 37 Pure Gold Hot Saucee and garlic and cook for an additional 30-60 seconds. Add the tomato paste, mustard, Worcestershire sauce, and sugar. Season to taste and stir to combine. Allow the mixture to boil, then reduce the heat and simmer for 30-40 minutes. Add the hot dogs and continue to cook until dogs are heated through.
Meanwhile, make the cheese sauce by melting the butter in a saucepan. Whisk the flour into the pan and cook for a minute, whisking slowly. Continue whisking while adding the milk and paprika and until the mixture has become thick. Stir in the cheese and continue stirring until the sauce is smooth.
Serve by arranging chips on a platter. Top with the hot dog chili and then the cheese sauce. Don't forget the extra Mad Dog on the side.