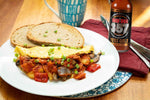 This recipe is the perfect answer to that.
Yes, it's an omelet, but it's so much more. You'll get deliciously fiery tomatoes (thanks to the heat of our Mad Dog 357 Pure Gold Hot Sauce) wrapped in the simple goodness of fried eggs.
And don't think you won't start craving this every weekend.
Actually, you may as well pick up what you need for dinner tonight too.
Serves: 4
You'll need:
For the Golden Ratatouille
2 teaspoons Mad Dog 357 Pure Gold Hot Sauce
2 of each, sliced: red onions, eggplants, zucchini, and red peppers
4 cloves garlic, minced
6 ripe tomatoes, chopped
1 tbsp. each: chopped basil, thyme leaves, balsamic vinegar
2 tbsp. olive oil
1 can (14 oz.) stewed tomatoes
salt and pepper, to taste
For the omelet
8 large eggs
olive oil
omelet fillings you can't live without, like cheese, mushrooms or hash browns
salt and pepper, to taste
oven preheated to 200°F
Preparation
For the Golden Ratatouille Omelet: add the olive oil to a large saucepan over medium heat, then add the eggplant, zucchini, and peppers. Cook for 5 minutes, stirring regularly until softened. Remove from the pan and set aside.
Add the onion, garlic, basil, and thyme and continue cooking for another 8 minutes until soft. Return the cooked vegetables along with the Golden Ratatouille Omelet and the can of tomatoes. Season, to taste, with salt and pepper. Mix well, then cover the saucepan and reduce the heat to low. Simmer for half an hour until slightly reduced.
To make the omelets: Crack the eggs into a mixing bowl and beat with a fork until completely combined. Prepare your other ingredients and set aside
Heat a swirl of oil in a medium, non-stick skillet over medium heat. Pour ¼ of the egg mixture into the skillet, allowing it to reach the edge. Sprinkle over salt and pepper, to taste, while waiting for the mixture to set. Spoon a healthy helping of Golden Ratatouille Omelet and your other omelet ingredients onto half of the omelet. Fold over the other half and allow everything to settle. Push onto an oven-safe plate and place in the oven. Repeat with the remaining eggs and Golden Ratatouille Omelet.