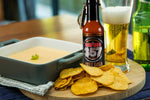 No matter what you celebrate this month, Oktoberfest always seems to be part of the theme.
As a nod to the great German tradition of food and beer before it gets too cold, we're bringing you the best combination of both. Of course, we've fired up these cheese dip style, but that means you'll want to serve this during football games and Halloween parties.
Enjoy!
Ingredients
1 quart Beer
1½ pounds Cream cheese
2 teaspoons Mad Dog 357 Pure Gold Hot Sauce
2½ pounds Sharp cheddar cheese
Salt and pepper, to taste (about a tablespoon)
Preparation
Add one quart of your favorite beer to a medium-sized pot. Bring the beer almost to a boil. Add the cream cheese and whisk to a smooth consistency. Stir in the Mad Dog 357 Pure Gold Hot Sauce and the shredded sharp cheddar cheese. Whisk everything together so the beer cheese is smooth and season to taste. Serve with chips… and beer.