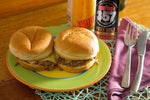 WOW! You won't be able to wait until the game to enjoy these sliders.
And, to be fair, you don't even need to hunt for slider buns – the regular-sized sandwiches go down just as well (maybe even better). The important bit is to let the cheese overlap the holes between the buns so everyone has the joy of pulling them apart. And, let's be fair, you can feel free to add as much hot sauce as you want – or pull out an extract and add a few drops.
Score!
Ingredients
2 tablespoons Extra-virgin olive oil
1 medium Onion, diced
1 tablespoon Mad Dog 357 Pure Gold Hot Sauce
2 cloves Garlic, minced
1 pound Ground beef
1 teaspoon Yellow mustard
1 tablespoon Worcestershire sauce
Salt and pepper, to taste
12 mini Slider buns (or 6 regular buns)
12 slices Cheddar cheese
4 tablespoons Butter, melted
¼ teaspoon Garlic powder
1 tablespoon sesame seeds, optional
Preparation
Preheat oven to 350ºF. Coat a 9×13" baking dish with cooking spray.
Heat the olive oil in a large skillet over a medium heat. Add the onions an sauté until soft; then, add the garlic and cook for another 30 seconds. Add the Mad Dog 357 Pure Gold Hot Sauce and the ground beef to the skillet. Break up the bits of meat as you stir until cooked through. Add the mustard, Worcestershire sauce, salt, and pepper. Then, remove from the heat and drain excess fat.
Place the bottom halves of the slider buns in the prepared dish. Spoon over the cooked beef mixture and top with the slices of cheese. Add the top halves of the bun, then brush with butter and sprinkle over the garlic power and sesame seeds. Place in the oven and bake for 15-20 minutes until the cheese is melty and tops are toasted. Serve with lots of napkins.