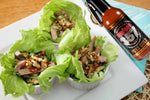 This is an awesome hors d'oeuvres or part of a buffet any time of the year. 
But, something about this recipe just makes it feel super special, indulgent. It's a little easier to make than you might suspect, though it will impress anyone that dives in.
The recipe serves 16 as written, but you can easily make adjustments to feed a crowd.
Ingredients
½ teaspoon Mad Dog 357 Pure Gold Hot Sauce
¼ cup English cucumber, finely chopped
¼ cup Green onions, thinly sliced
1½ tablespoons Lime juice
1 teaspoon ginger, peeled and finely grated
½ teaspoon Salt, plus more to taste
8 ounces Flank steak
16 small crunchy inner leaves Lettuce
2 tablespoons Nuts, salted and chopped
2 tablespoons fresh mint leaves, chopped
Preparation
Combine the Mad Dog 357 Pure Gold Hot Sauce, with the cucumber, green onions, lime juice, and ginger in a medium bowl. Season to taste and set aside.
Heat a griddle pan over high heat. Grill the steak, turning just once until charred on both sides. You'll need about 8 minutes total for medium-rare. Allow the steak to rest for 10 minutes before slicing thinly across the grain. Toss the steak with the cucumber mixture and set aside.
Divide the lettuce leaves on a platter or in individual serving cups. Divide the cucumber and steak mixture between the lettuce leaves. Garnish with the nuts and mint leaves. Add a few extra drops of Inferno hot sauce, if desired.