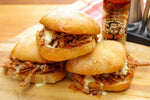 Sometimes there's absolutely nothing better than a sandwich.
And, there are so many delicious, tempting sandwiches out there; no one need ever be limited to PBJs or a couple of weak slices of ham on white bread. Sure, if that's your thing, by all means, go for it.
But, if you're in for juicy, dripping with flavor sandwiches, you're in exactly the right place. No one with any sense will be able to turn away from these slow-cooked shredded beef sandwiches. No one.
Now, we know you need to wait several hours for these babies. But, just think about returning home from a long day at work to the smell of these sandwiches just waiting for a little shredding and a dollop of mayo. (Drooling yet? We are and we've already scarfed these down in the most undignified manner.)
The simplicity of this recipe somehow enhances the flavor; there's basically zero effort outside of enjoying the taste. So, we suggest you buy the biggest roast you can find. As long as it's not been frozen, you're in luck – you can freeze portions for those days when you just can't bear to cook, but need something delicious. Of course, it's possible that this recipe which makes up to 16 sandwiches won't last that long, these are totally gobble-worthy.
So, what are you waiting for? All you need to pick up is a roast and some rolls; you've probably got everything you need in your kitchen already.
You could be enjoying these tomorrow – or maybe tonight.
Ingredients
1 teaspoon - 1 tablespoon Mad Dog 357 Silver Edition
1½ cups Ketchup
½ cup Brown sugar, packed
6 cloves Garlic, minced
5 tablespoons Apple cider vinegar
6 tablespoons Worcestershire sauce
1 tablespoon Paprika
½ cup Water
3-4 pound Beef pot roast, bone-in
10-16 each Sandwich rolls, split open
Mayo or other favorite sandwich toppings, to serve
Preparation
Turn your slow cooker on high. Add the Mad Dog 357 Silver Edition with the remaining ingredients (except roast and rolls) and stir until well combined.
Place the meat in the slow cooker, spoon over some of the sauce and cook for 4-5 hours on high (or double on the low setting).
Remove beef and shred, then stir back into the sauce. Use a slotted spoon to place beef onto the bottom of each roll; top with a good slather of mayo or other favorite sandwiches and cover with tops of the rolls.