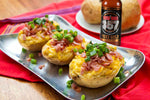 It is the truth is that you crave loaded potatoes all year long, don't you?
And, they're a super easy meal on their own. You can easily add hot sauce to the final product, but we're sold on this loaded potato recipe that mixes Mad Dog right into the potato itself. Fortunately, this recipe for two is the kind of thing that's best when the kids are away, and it's just the two of you and a couple of craft beers.
It's a perfect evening no matter what month it is.
Ingredients
2 large baking potatoes
4 slices Bacon
Mad Dog 357 Pure Gold Hot Sauce
2 teaspoons Butter
¼ cup Sour cream
½ teaspoon Salt
¼ – ½ cup Cheddar cheese, shredded
2 stalks Green onions, sliced
Preparation
Preheat your oven to 400ºF.
Pierce your potatoes several times with a fork (to allow the heat to get inside better). Bake directly on the oven rack for about an hour, turning about every 20 minutes. Check that they're done by piercing with a fork or cake tester to see that they're soft and fleshy.
Meanwhile, fry your bacon until crisp and set aside to cool, and then crumble. (You can also use ham if you prefer – though it won't become as crisp as fatty bacon.
When the potatoes are done, halve them and scoop out most of the flesh into a bowl. (Don't discard the skins.) Mix the potato flesh with the Mad Dog 357 Pure Gold Hot Sauce, butter, sour cream and salt. Adjust the hot sauce and salt to your liking at this point. Fill your potato halves with this mixture (it should overflow a little) and set potatoes on a baking tray. Top potatoes with cheese and return to the oven for a few minutes – until cheese is melted. Remove from the oven, sprinkle over the green onions and crumbled bacon and serve hot.