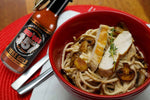 This is really called Engagement Chicken and it's a fairly common recipe.
We've just added some heat because you really can't celebrate incredible romance without it. As you would expect, this pasta serves just two, but you can always double or triple it if you want a crowd to witness your proposal. It's wonderfully decadent, with just the right amount of heat, but you will want to serve it as soon as it's ready (about 40 minutes after starting) as the cream cheese and wine will set if you don't.
Oh – did we just say the right words? Thought so.
Ingredients
6 ounces Spaghetti
4 tablespoons Butter
10 sprigs fresh thyme
10 ounces Mushrooms, sliced
Salt and pepper, to taste
2 each Chicken breasts
2 teaspoons Olive oil
½ teaspoon Mad Dog 357 Pure Gold Hot Sauce
½ cup Dry white wine
4 ounces Cream cheese, softened
Preparation
Cook the spaghetti according to package instructions.
Melt the butter in a large, non-stick skillet over medium heat. Add the thyme as it starts to warm and then add the mushrooms, stirring to coat in the butter. Stir occasionally until mushrooms are golden brown, about 12 minutes, then remove the mushrooms from the pan.
Add the oil to the pan, season the chicken breasts with salt and pepper, to taste, and increase the heat to medium-high. Cook the chicken breasts until done, then remove from the skillet. Cover the chicken to keep warm while resting.
Reduce heat to low and add the Mad Dog 357 Pure Gold Hot Sauce and wine. Allow the wine to cook down slightly while scraping the bottom of the pan with a wooden spoon to get all of the brown bits into the wine.
Meanwhile, slice the chicken breasts into strips and set aside.
Remove the thyme sprigs from the skillet and add the cream cheese, stirring until it melts.
To serve, divide the cooked and drained pasta between bowls, pour over the Mad Dog wine and cheese mixture and toss. Top with the mushrooms and sliced chicken and serve with a glass of champagne.