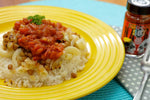 Okay, we know we've cheated a bit by using canned lentils – and heating them in the microwave.
But, if you're looking for a fiery Egyptian vegetable and grains dish to warm your tummy, this is the one. It's super traditional and yet easy to make.
You can certainly cut down on the rice and pasta if you like, but don't cut into the tomato sauce; it's too delicious.
Ingredients
2 cups White rice, uncooked
1 (16 oz.) package Elbow Macaroni, uncooked
1 can lentils, drained
>1 tablespoon Vegetable oil
5 medium Onions, minced
2 cloves Garlic, minced
¼ teaspoon Mad Dog's Naga Morich Pepper Puree
3 tablespoons White vinegar
4 medium Tomatoes, diced
½ cup Tomato paste
1½ teaspoons Salt
1 teaspoon ground Black pepper
2½ teaspoons Ground cumin
¼ teaspoon Cayenne pepper
Preparation
Prepare rice and pasta according to package instructions. Drain and set aside. Heat the lentils in a saucepan or in the microwave (in a microwave-safe bowl) and set aside. Keep all three warm.
Heat the oil in a large skillet over medium-high heat. Add the onions and cook, stirring regularly, until they begin to brown, about 8-10 minutes. Add garlic and cook for another minute. Remove about half of the onions and set aside. Keep warm.
Mix the Mad Dog's Naga Morich Pepper Puree into the skillet, along with the vinegar, tomatoes, tomato paste, and seasonings. Bring to a boil, then reduce heat to medium-low and simmer about 12 minutes.
Serve by placing a spoonful of rice, then macaroni, and then the lentils on serving plates. Sprinkle with some of the browned onions, and then top with the fiery tomato sauce.