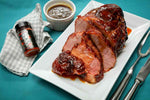 Looking for the most incredible way to make a statement this Easter?
You've just found it in this feisty ham. A few ingredients and a little Mad Dog is all you need for the most delicious main you could imagine. Indeed, the glaze is so good, you may want to buy two separate hams this Easter; one for you and one for the kids.
You won't regret it; seriously.
Ingredients
1 - 10-pound Precooked ham
¼ teaspoon Mad Dog 357 Carolina Reaper Hot Pepper Puree
1 cup Orange juice
1 cup Honey
1 each Orange, zest of
Preparation
Preheat your oven to 325ºF. Place the ham in a deep oven-safe dish and cover it loosely with foil. Place it in the oven and bake it for 1 hour.
Meanwhile, combine the Mad Dog 357 Carolina Reaper Hot Pepper Puree with the remaining ingredients a small pot or saucepan. Heat on low, stirring occasionally, cooking until well-combined and smooth. Remove from the heat and allow it to cool.
When the ham is heated through, pour half of the glaze over the ham and return it to the oven. Bake for a further 15 minutes uncovered. Then, remove the ham from the oven and pour over the remaining glaze prior to serving.