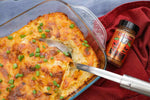 A little habanero with your hash browns?
Hell yeah. And then add sour cream and cheese to seriously transform this dish into something incredible.
It's perfect for Thanksgiving potatoes, especially as habaneros aren't the hottest of peppers on the planet. Sure, it won't be for everyone, but that just means there's more for you. And, as this dish is meant to serve 12, that means you'll have plenty of leftovers to satisfy the craving you'll have (probably constantly) as soon as you take the first bite.
It's super easy to put this together and way more flavorful than you'd ever expected, which means you don't really have to save this for Thanksgiving.
It's a darn good excuse, isn't it?
Ingredients
1/4 cup butter
1 Onion, chopped
1 package (30 oz.) Frozen hash browns, defrosted
1 teaspoon salt
2-3 tablespoons Mad Dog 357 Habanero Pepper Puree
1 can (10¾ oz.) Condensed cream of chicken soup
2 cups Sour cream
2 cups Cheddar cheese, shredded
½ teaspoon Garlic powder
¼ teaspoon Black pepper
Preparation
Preheat your oven to 350F and grease a 9″x13″ pan with cooking spray.
Melt the butter in a large skillet over medium-high heat, then add the onion and cook for 3-4 minutes. Add the hash browns and salt to the skillet and continue to cook, frequently stirring, for another 3-4 minutes, until onions are soft.
Stir in the Mad Dog 357 Habanero Pepper Puree with the remaining ingredients. Stir to mix all the ingredients evenly, then transfer to the prepared pan.
Place pan in the oven, uncovered, for 30-40 minutes until bubbly, melty, and the smells from the oven start driving you crazy with hunger.