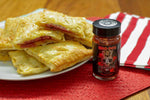 Remember the hot pockets of your younger years?
Well, imagine we made them better by filling the insides with super hot reaper pepper puree as well as all the gooey goodness of the cheese, pepperoni, and pizza sauce you fell in love with in the first place. And, oh yeah, they're ridiculously easy to make.
Fast and fiery… what more could you want?
Makes: 6
You'll need:
for the fiery pizza sauce
1 teaspoon Mad Dog 357 Reaper Pepper Puree
3 tablespoons tomato paste
¼ teaspoon each: onion powder, garlic powder, salt
½ teaspoon Italian seasoning
for the Super Hot Pockets
1 box thawed puff pastry
¾ cup grated low-moisture mozzarella
24 slices pepperoni
1 beaten egg
2 tablespoons parmesan cheese
oven preheated to 400°F
baking sheet lined with parchment paper
Preparation
In a small bowl, combine the Mad Dog 357 Reaper Pepper Puree with the remaining ingredients for the fiery pizza sauce and set aside.
Roll out the puff pastry on a lightly floured work surface and roll out flat (it should grow by about an inch all the way around). Cut 6 rectangles out of each sheet (for 12 in total).
Spread the fiery pizza sauce on 6 of the rectangles, leaving a slight ½" gap around the edges. Top each of these 6 rectangles with mozzarella and pepperoni slices. Press the remaining 6 puff pastry rectangles on top of the 6 "filled" ones, using water, if needed, to pinch together the seams.
Place Super Hot Pockets on the prepared baking sheet. Slash 3 small holes on the tops of each pocket with a knife, then brush each pocket top with the beaten egg and sprinkle over the parmesan.
Place the baking sheet in the oven and bake for 15-20 minutes until puffed and golden. If you don't gobble them all at once (though you should wait 5 minutes so you don't literally burn your mouth), you can store the leftovers in the fridge for a week, popping them in the microwave for about 45 seconds before eating.