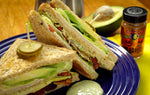 Of course August is National Sandwich Month
There's almost no better time for sandwiches than when you're trying to squeeze every last ounce of summer fun from the year. And, these sandwiches are freaking amazing – they have all the right flavors in all the right places and one hell of a kick too. This is what you'll need for four sandwiches – and feel free to bump up the Habanero puree if you can handle the heat.
De-lish!
Ingredients
1-2 teaspoons Mad Dog 357 Habanero Pepper Puree
4 tablespoons Mayonnaise
1 tablespoon prepared basil pesto
8 slices bacon, halved
12 slices Bread
½ pound Shaved ham
½ pound Shaved turkey
4 each avocado, peeled and sliced
4 slices Cheddar cheese
2 handfuls lettuce, torn
Preparation
Combine the Mad Dog 357 Habanero Pepper Puree with half the mayo in one small bowl. In another bowl, combine the remaining mayo with the pesto and set aside. Then, fry the bacon until crisp, drain the excess fat, and set aside.
Toast the bread and divide between four plates.
Assemble sandwiches by spreading the pesto mayo on one side of two of the slices on each plate. Spread the third slice with the Mad Dog mayo. Layer the remaining ingredients as desired. Slice and serve to the smiling crowd!