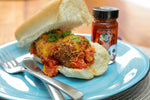 It would be tough to top this an office lunch.
The only thing that would make it better is, well, taking it to a picnic. Besides the fire and spice of the Morich puree, we're absolute fans of the cheese, cheese, cheese on this fresh take on an Italian meatball sandwich. Surprisingly, you can wrap the whole thing up and freeze it with amazing results.
Just pop it in the microwave for about 2 minutes and you'll have a totally satisfying meal.
Ingredients
1/4 teaspoon Mad Dog 357 Naga Morich Ghost Pepper Puree
1½ pounds Ground beef
2 cup Cheddar cheese, shredded and divided
½ cup Bread crumbs
2 tablespoons fresh parsley, chopped (plus more for garnish)
2 cloves Garlic, minced
1 teaspoon ground cumin
1 large Egg Salt and pepper, to taste
1 tablespoon Olive oil
½ each Onion, chopped
16 ounces crushed tomatoes
4 each Hero rolls, sliced lengthwise
Preparation
Preheat your oven to 350°F. In a mixing bowl, combine the Mad Dog 357 Naga Morich Ghost Pepper Puree with the beef, 1 cup of cheese, bread crumbs, parsley, garlic, cumin, and egg. Season to taste. Divide this mixture into 12 meatballs and place in a casserole dish. Put in the oven and bake until golden brown – about 12 to 15 minutes.
Meanwhile, heat the oil in a large pot over medium-high heat. Add the onions and cook until tender, about 5 minutes. Add crushed tomatoes and season to taste. Simmer for about 5 minutes, stirring occasionally, then add meatballs. Reduce the heat to low and gently toss meatballs with sauce. Add a touch os parsley for garnish and flavor.
To assemble the sandwiches, line a baking sheet with baking paper or foil. Arrange the rolls on this sheet (cut side up). Top with three meatballs on the bottom halves and then spoon over the tomato sauce and a handful of cheese. Place in the preheated oven and bake until cheese is melty and bread is warmed. Wrap sandwiches in heavy foil and enjoy.