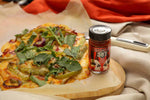 Whether you're celebrating National Pepper Month.
You just need a super cheesy pizza where peppers shine like the sun (and burn like it too), you really don't need to look any further for the perfect recipe. You've just found it.
Seriously. This pizza is filled with flavor and you won't be able to stop eating it. (It's so good you won't even miss the meat.)
Now, you could make this into four individual pizzas, but we love it best as one large pie that everyone tucks into – and they'll keep doing that until it's all gone.
Really; it's that good.
Ingredients
1 teaspoon Mad Dog 357 Naga Morich Pepper Puree
1/3 cup Pizza sauce
1 tablespoon Olive oil, plus extra for drizzling
2 Green bell peppers, sliced
1 Red onion, sliced
1 pound pizza dough, divided if desired
6 ounces Provolone, sliced
¾ cup Parmesan, finely grated
Salt and pepper, to taste
1 cup Arugula, torn
Preparation
Preheat oven to 375°F. Line a baking sheet with baking paper and set aside.
Combine the Mad Dog 357 Naga Morich Pepper Puree with the pizza sauce and set aside.
Heat the oil in a skillet over medium-high heat. Add the peppers and onion to the skillet and cook, stirring frequently, for 7-8 minutes until soft.
Meanwhile, stretch out the pizza dough into one large or four small rounds and place on the baking sheet. Spread the pizza sauce atop the dough then top with the cheeses and the pepper and onion mixture.
Place baking sheet in the oven and cook until the cheese is melty, and starting to crisp – about 12 minutes. Remove from the oven and top with the arugula. Serve hot with more of your favorite Mad Dog hot sauce on the side.