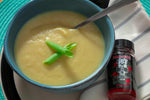 This soup could be a meal on its own – and you will be tempted to make it often.
As written, the recipe serves four with decent portions. But, this is why we love this recipe, it makes an excellent first for a warming winter dinner party for six to eight people. Just go easy on the bread so your guests have room for the rest of the meal.
You can make it a day in advance and warm it on the night of your party.
Ingredients
2 tablespoons Butter
3 large Leeks, cleaned and chopped
Salt and pepper, to taste
½ teaspoon Mad Dog 357 Carolina Reaper Puree
32 ounces Chicken broth
2 pounds Russet potatoes, peeled and chopped
1 each Bay leaf
¼ cup Fresh parsley, chopped, for serving
Crusty bread, for serving
Preparation
Heat the butter in a large pot over medium-low heat. Add the leeks and season, to taste. Cover and cook for 10 minutes, lifting the lid to occasionally stir the leeks until they're softened. Add the Mad Dog 357 Carolina Reaper Puree, broth, potatoes, and the bay leaf. Allow it to boil, then reduce the heat and simmer until the potatoes are tender – about 15 to 20 minutes. Remove the bay leaf and then mash until smooth (or use an immersion blender to speed the process along). Ladle into bowls, garnish with plenty of parsley and serve with crusty bread.