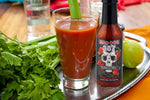 Take a look at this old favorite with a gourmet Mad Dog twist.
This recipe is best when you make exactly as called for. We know that personalizing your Bloody Mary is your prerogative on Saturday mornings.
But we truly believe you'll love this.
Ingredients:
1 large can of V-8 Juice
Juice of 1 Lemon
8 drops of Worcestershire sauce
2 tbs. of Fresh Dill
1 tbs. of Horseradish
Shake and add 6 oz. of vodka
6 drops of Mad Dog 357 Reaper Sriracha Hot Sauce (more if you like it very hot).
Preparation
Fill a tall glass with ice and set aside. In a cocktail shaker, squeeze the juice from the lemon and lime wedges and drop them in for extra flavor. Add the Mad Dog 357 Reaper Sriracha Hot Sauce and the remaining ingredients and fill with ice. Shake gently and strain into the prepared glass. Serve with a celery stalk and a lime wedge.