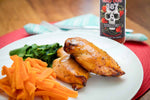 Who doesn't want the tastiest, dreamiest combination of Thai flavors blended with Mad Dog 357 Sriracha Hot Sauce?
If you raised your hand, think again. This is a powerful mix and the most sensational way to enjoy the last days of summer. This recipe serves four and it's awesome when served with a simple slaw (light on the mayo, please) or a noodle and cilantro salad.
Yum!


Ingredients
1/4 a bottle Mad Dog 357 Sriracha Hot Sauce
6 cloves Garlic, minced
2 tablespoon Lime juice
3 tablespoon Fish sauce
2 tablespoon Chinese cooking wine
3 tablespoon Brown sugar
2 tablespoon Honey
½ tablespoon Black pepper
4 each Chicken breasts
½ tablespoon Olive oil

Preparation
Place all the ingredients except the chicken in a large Ziplock bag or lidded bowl; close and shake to combine. Add the chicken to the marinade and allow the marinade to spread all over the chicken. Seal or cover and place in the fridge; marinate for a minimum of 3 hours, preferably overnight.

When ready, remove the chicken and discard the marinade (or reserve to heat through and serve drizzled on top of grilled chicken). Heat the oil in a non-stick pan over a medium-high heat. Cook the chicken until golden brown - about 3 minutes each side. Rest for a few minutes before serving.