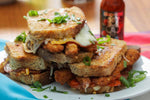 This combination of chicken parm meets pizza is super meaty and cheesy, but the best part is obviously the Mad Dog 357 Reaper Sriracha.
It adds just the right amount of heat without overpowering the other flavors.
Now, we know that one sandwich is never enough, which is why we've written this for 4 sandwiches. And, if you use chicken strips that have never been frozen, you can pop any extras in the freezer for ready-made sandwiches any month of the year.
Simply remove whatever packaging you store it in, place the sandwich on a paper towel on a plate and microwave until hot.
Ingredients
1 teaspoon Mad Dog 357 Reaper Sriracha Hot Sauce
¼ cup Marinara sauce
8 slices Sourdough bread
Butter
20 each Chicken strips, precooked
24-32 slices Pepperoni
8 slices Mozzarella cheese
2 tablespoons Parmesan cheese, grated
 Preparation
Preheat the Panini press. In a small mixing bowl, combine the Mad Dog 357 Reaper Sriracha Hot Sauce with the marinara sauce and set aside.
Butter one side of each slice of bread and on the non-buttered side of half of the slices, layer the chicken strips, Mad Dog marinara sauce, pepperoni, and cheeses. Top with the remaining slices of bread, butter-side up.
Place sandwiches on the panini press and cook for 3-5 minutes, until the cheese is melty, and the bread is crisp.