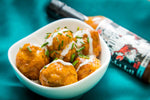 You may be thinking that chicken meatballs can't compete with beef ones.
But, you're wrong. Like completely wrong. This is easily one of the best meatballs you can imagine. That makes it perfect to share during the big game when you need to serve a crew of hungry guys.
And, it's super easy to make them too. (That's always a plus when it comes to meatballs.)
But, of course, the genius of this recipe is the sauce. It's way more than Mad Dog, it's quite deep and filled with an incredible mix of flavors with the combination of salsa and BBQ sauce to bring out the natural fruity sweetness of the Scorpion hot sauce.
All we have to say is make these and make these now. You seriously won't regret it.
Ingredients
For the meatballs
1 pound ground chicken
¾ cup Breadcrumbs
1 large Egg
1 tablespoon Chives
1 teaspoon Cayenne
Salt and pepper, to taste
For the Scorpion BBQ sauce
5 tablespoons Butter
1 teaspoon Mad Dog 357 Scorpion Hot Sauce
4 tablespoons BBQ sauce
4 tablespoons Salsa (mango is best)
1 teaspoon Worcestershire sauce
½ teaspoon Garlic powder
Ranch dressing, for dipping
Preparation
Preheat your oven to 400ºF and line a large baking sheet with baking paper or foil.
Combine all the ingredients for the meatballs in a large bowl and roll into meatballs (you'll get about 20 meatballs). Place meatballs on the lined baking sheet. When all the meatballs are done, place the baking sheet in the oven and cook for 30-35 minutes until the chicken is cooked through and the outside becomes slightly crispy.
Meanwhile, melt the butter in a large saucepan over medium-low heat. Pour in the Mad Dog 357 Scorpion Hot Sauce with the remaining ingredients and stir to combine and heat through.
When the meatballs are cooked through, add them to the Mad Dog Scorpion BBQ sauce and gently stir to coat. Allow the sauce to soak in for another minute or two before transferring to a serving platter and enjoying with ranch sauce for dipping.