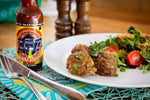 There are meatballs… and then there are Swedish Meatballs.
There really is a difference, as anyone that's ever spent a day at IKEA can tell you. And, these Swedish Meatballs are something special. It's not just the incredible dash of flavor that Mad Dog adds to the mix; it's that these are unbelievably addictive.
It's a good thing this recipe makes more than 80 meatballs because you'll go through them fast. Promise.
Ingredients
2 large Onions, finely chopped
2 tablespoons Butter
7 tablespoons Fresh (whipping) cream
7 tablespoons Milk
7 tablespoons Bread crumbs
2¼ pounds Ground beef
1 teaspoon
Mad Dog 357 Hot Sauce
3 teaspoons salt
2 each Egg
1½ teaspoons Sugar
Pepper and mixed herbs, to taste
Butter, for frying
Preparation
Using 2 tablespoons butter, fry onions until soft, then remove from the heat and set aside to cool.
While onions are cooling, prepare breadcrumbs. Mix the cream, milk, and breadcrumbs in a bowl and leave to swell for about 10 minutes.
In a separate bowl, combine the ground beef, Mad Dog 357 Hot Sauce, and salt. Then add eggs, sugar, pepper, and mixed herbs. Once the onions have cooled, add them to the breadcrumbs and combine them with the ground beef mixture. Finally, roll into small balls (a little smaller than golf balls to be authentic).
Then, in your largest frying pan, heat butter over medium heat and fry the meatballs in batches until all of them are cooked.