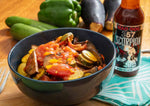 Looking for an amazing way to make the most of fresh flavors while you're mostly homebound?
This is exactly the way to do it. And, we've even got a suggestion for stretching it further with another classic Mad Dog recipe.
Could you ask for more?
How about the fire? How about the ease of popping this in the oven? How about the health benefits of all the fresh veggies and hot sauce?
Awesome, right?
Serves: 8
You'll need:
6 tablespoons olive oil, divided
1 each: onion, red bell pepper, yellow bell pepper, all diced
5 cloves garlic, minced and divided
1-2 teaspoons Mad Dog 357 Scorpion Hot Sauce
2 cans crushed tomatoes
1 teaspoon salt, divided
½ teaspoon pepper, divided
4 tablespoons fresh basil, chopped and divided
2 each: eggplants, zucchini, both sliced
6 Roma tomatoes, sliced
2 tablespoons fresh parsley, chopped
2 teaspoons fresh thyme
Oven preheated to 375˚F
Preparation
Heat 2 tablespoons of the oil in a skillet over medium-high heat. Add the onion, peppers, and 3-4 cloves of the minced garlic and cook, stirring regularly, for about 10 minutes, until soft. Add the Mad Dog 357 Scorpion Hot Sauce, along with the cans of crushed tomatoes, and season with half the salt and pepper. Remove from the heat and stir in half the basil. Spoon the sauce into an oven-safe casserole dish. Top the sauce with the sliced eggplant, zucchini, and tomatoes.
Mix the remaining ingredients, including the divided ingredients, in a small bowl, then spoon over the vegetables. Cover with foil and bake in the preheated oven for 40 minutes. Remove the foil and cook for another 20 minutes.
Serve with more Mad Dog 357 Scorpion Hot Sauce on the side or double up on the heat and use this in our Ratatouille Inferno Omelet.