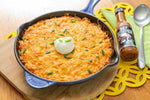 Cheese, glorious cheese.
If you can't get enough of it, this oven-baked taco dish is full of the cheesy goodness you crave. It's quick and easy to prepare, but it's the bite of a Mad Dog that makes this more than your average after-work, mid-week dinner. You'll feed about four with this, but really, you should make it for two and take leftovers to work.
Mmmmm…. good.
Ingredients
1 tablespoon Olive oil
1 each Onion, chopped
1 pound Ground beef
1 teaspoon Mad Dog 357 Scorpion Pepper Hot Sauce
2 tablespoons all-purpose flour
1 packet Taco Seasoning Mix
1 cup Chicken stock
1 can Tomato sauce
3 cups White rice, cooked
2 cup Cheddar cheese, shredded and divided
¼ cup Sour cream
¼ cup Green onions, thinly sliced
Preparation
Preheat your oven to 375°F. Heat the oil in a large, oven-proof skillet over medium heat. Add the onion and sauté, stirring occasionally, until softened.
Add the beef, stirring to break up the meat, and cook until it's no longer pink. Drain the fat and then return pan to the stove. Stir in flour, Mad Dog 357 Scorpion Pepper Hot Sauce, and taco seasoning. Cook for about 1 minute.
Add the stock and tomato sauce. Bring the mixture to a boil. Reduce the heat to low and simmer for 5 to 10 minutes. Then, stir in cooked rice, cheese, and sour cream. Sprinkle the top of the casserole with cheese. Place in the oven and bake until the top is golden brown, 18 to 20 minutes. Garnish with green onions and serve.