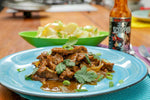 Planning a luau sort of party?
Just looking for a fiery recipe that calls for plenty of beef? Or maybe you just need a touch of Asian with a twist… No matter what you're looking for, this recipe (which feeds 6 comfortably) has it. And the best thing to serve it with? Surprisingly, it might be Hawaiian potato salad – that means adding hard-boiled eggs and plenty of cooked macaroni.
Don't forget to serve it with extra Mad Dog on the side!
Ingredients
1-2 teaspoons Mad Dog 357 Scorpion Hot Sauce
2/3 cup Soy sauce
1/2 cup Sugar
2 tablespoons Orange juice (or pineapple juice)
3 cloves Garlic, minced
1" piece Ginger, crushed
3-4 pounds beef strips
3 stalks Green onion, finely chopped, for garnish
Cilantro, for garnish
Preparation
Combine the Mad Dog 357 Scorpion Hot Sauce with the soy, sugar, juice, garlic, and ginger. Add the beef and marinate it for at least 4 hours, or overnight.

When ready to cook, preheat your oven to 325ºF. Place the beef into a shallow, ovenproof pan and brush pieces with the marinade. Bake for roughly 1 hour, turning every 15-20 minutes and brush with marinade each time you turn the meat. During the last 10 minutes of cooking, pour in the rest of the mixture and allow it to bubble and reduce. Serve with potato salad and plenty of chopped green onions and cilantro.