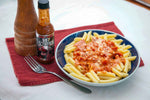 We know, it's so easy to add a splash of Mad Dog to your pasta sauce once it's cooked
But there's something about adding some at the beginning of the process to really fill out the flavor of a dish. And, when it comes to flavor, this pasta is absolutely loaded with it. You won't believe it when you skim through the ingredients list, but it's true. And, don't be tempted to cut a single ingredient, it is perfect as is – even without any added salt or seasonings. And yes, you will easily feed 3-4 people with this dish.
Enjoy!
Ingredients
a splash of Vegetable oil
3 cloves Garlic, minced
1-3 teaspoons Mad Dog Scorpion Hot Sauce
5 ounces Continental meats (salami, Serrano ham, Parma ham, etc), roughly torn
2 cans diced tomatoes (with juices)
1 teaspoon Brown sugar
1 fluid ounce Vodka
5 fluid ounces Fresh cream
cooked pasta and Parmesan cheese, to serve

Preparation
Cook the pasta according to package directions.

In a large pan, heat the oil over medium-high heat. Add the minced garlic and stir for 1 minute, then add 1 teaspoon of Mad Dog Scorpion Hot Sauce. Reserve the balance until after adding the cream to ensure your pasta sauce is not too fiery. Stir the sauce to coat the garlic and blend with the oil. Add in the meats and stir to coat with the sauce. Pour in the tomatoes, and add the brown sugar. Stir to combine and allow to simmer for about 5 minutes until it has reduced slightly. Add the vodka and simmer for 1 minute. Stir in the cream until well combined. Check the heat, and add in more Mad Dog Scorpion hot sauce, as desired. Serve over cooked pasta with a sprinkling of Parmesan.