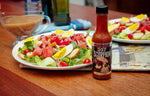 Trying to make the switch to salads and veg and finding it incredibly difficult?
That could be because your body doesn't believe it's consumed enough fat. Mad Dog Hot Sauces can trick your brain into believing that you're full, even if you're used to much bigger portions of fatty foods. Go on, give this salad a try. The Mad Dog Vinaigrette gives it a hell of a kick.
And we recommend making a double batch and keeping it in the fridge until you've eaten your way through it.


Ingredients
For the Mad Dog Vinaigrette

6 tablespoons Extra virgin olive oil
2 tablespoons Balsamic vinegar
1 teaspoon Mad Dog Scorpion Hot Sauce
½ small Red onion, finely chopped
2 cloves Garlic, minced
Freshly ground black pepper and sea salt, to taste

For the Salad

Mixed lettuce leaves, torn
Green peppers, sliced
Cherry tomatoes halved
Hard-boiled eggs, quartered
Bacon, cooked and crumbled
Feta cheese, crumbled if desired
Croutons
1 type of fruit, sliced or roughly chopped (watermelon, apple, strawberries – it's up to you)

Preparation
In a jug, mix together all the ingredients for the Mad Dog Vinaigrette and set aside. Arrange all the ingredients for the salad on a large serving plate – or individual plates as desired. Serve with the Mad Dog Vinaigrette drizzled over or on the side.