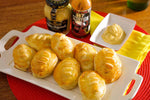 You're going to love, love, these fiery game day snacks.
They're wonderfully easy to make and will appeal to every fan – no matter what team they support. Expect these little piggies to be devoured almost as soon as they hit the table. (Plan for it and make a double batch.) The quantity varies based on the size of your sausages and you may cut into larger sausages to smaller pieces if you need a lot!
 Ingredients
13-14 ounces Cocktail sausages (pick your favorite)
Mad Dog 357 Scorpion Pepper Hot Sauce, to taste
All-purpose flour, for rolling
1 package frozen puff pastry, thawed
1 large Egg, lightly beaten
1/3 cup Mustard, mixed with more
Scorpion Pepper Hot Sauce, for dipping
Preparation
Preheat your oven to 425º F. Set out a baking sheet, but don't bother greasing it.

Cook the cocktail sausages in a large, non-stick skillet over medium heat until the skin crisps and some of the fat releases (about 5 minutes). Transfer the sausages to a paper towel-lined plate to cool, and then brush each one with Mad Dog 357 Scorpion Pepper Hot Sauce.

Meanwhile, roll the puff pastry out (on a lightly floured surface) to form an 8×11" rectangle. Use a 3½" round cookie cutter to cut several circles from the pastry.

Wrap a circle of puff pastry around each sausage. Pinch the seams so the sausage isn't exposed and gently pulling on the ends to make a tapered football shape. Place covered sausages on the baking sheet, seam-side down.

Brush with the beaten egg. Use bits of the pastry scraps to make laces on each football. Press down gently and brush with more egg. Bake until the pastry is lightly crispy and brown, about 25 to 30 minutes.

Serve fiery pigskins with mustard mixed with plenty of Mad Dog 357 Scorpion Pepper Hot Sauce for dipping.