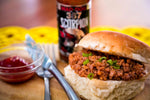 You know you're going to want this delicious dish every single week, all winter long.
Okay, it's not cold yet. But this is a seriously comforting dish. So maybe you can't wait. Maybe you won't have to; there's a good chance you've got all of this kicking around in your kitchen cupboards. So, give it 30 minutes and you could be chowing down. Oh, it does feed somewhere between 4 and 6 people as a sandwich.
But, you may not want to share…


Ingredients
1 pound Ground beef
¼ cup Onion, chopped
½ teaspoon
357 Mad Dog Scorpion Hot Sauce
¾ cup Ketchup
2 teaspoons yellow mustard
½ teaspoon Garlic powder
1 tablespoon Brown sugar
¼ cup Water
Salt and pepper, to taste
Preparation
In a large skillet over medium heat, cook
ground beef
and onion stirring occasionally, until browned. In a medium bowl, whisk together
357 Mad Dog Scorpion Hot Sauce
and remaining ingredients. Add whisked ingredients to the browned beef and stir until thoroughly combined. Bring mixture to a simmer. Then, reduce the heat to low and continue cooking for about 15 minutes, stirring occasionally.