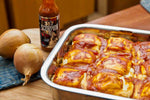 This is comfort food at its best.
Now we know winter is on the way out, but this easy meal will keep you happy on rainy days. Promise. It's remarkably easy to put together and yet tastes like one of those baked pastas that require hours to prepare. We added in the Mad Dog Scorpion Hot Sauce because it's remarkably versatile, but it does mean that this recipe is for the grownups of the family. (If you do have a small brood to feed, you will want to omit the hot sauce during cooking and slather it on at the end. But, this recipe will feed about six people – and it does keep remarkably well in individually portioned packages in the freezer. Last minute lunch sorted.
Oh, and we do think a salad with ranch is the very best side for this dish.

Ingredients

a slug of Vegetable or olive oil
1-1½ pounds Ground beef
1-2 teaspoons Mad Dog Scorpion Hot Sauce
1 can (15 oz.) Spaghetti sauce, divided
1 small Onion, finely chopped
1 clove Garlic, minced
1 tablespoon Flour
1 tablespoon Fresh parsley, finely chopped (or 1 teaspoon Dried parsley)
1 can Crescent rolls
3 slices American cheese, quartered

Preparation

Preheat your oven to 375ºF.

In a large pan, heat the oil over a medium-high heat. Add the ground beef and onions. Cook, frequently stirring until the beef has browned. Stir in 1 teaspoon of Mad Dog Scorpion Hot Sauce (more if you can take the heat), ½ cup spaghetti sauce, onion, garlic, flour and parsley. Stir until well combined, and then remove from the heat.

Roll the crescent rolls into a single piece. Divide into 4 rectangles, pressing the perforations to seal where necessary. Along the long end of one rectangle, scoop 3 separate tablespoons of the ground beef mixture (place in 3 different heaps just in from the edge). Fold the excess dough over the filling, press edges to seal and cut into three squares. Repeat with the remaining crescent dough rectangles.

Add any remaining ground beef mixture to the bottom of an ungreased, 9" baking pan. Arrange crescent ravioli squares over the top. Bake for 15 minutes. Remove pan from oven, add the cheese square on top of each ravioli square. Pour over the remaining spaghetti sauce. Bake for another 10-15 minutes until the sauce is bubbly. Serve hot!