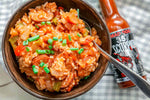 Let's see; have we got a Southern recipe with incredible sausage?
Yes. Can you get it on the table in less than an hour, including the rice its served with? Yes. Is it super simple? Yes. Mostly pantry ingredients? Yes. One-pot cooking for easy cleanup? Yes. Serves four to six people? Yes. Filled with the piercing heat of Mad Dog 357 Scorpion Hot Sauce? Yes.
Basically, we've put it all in one recipe so that you want for nothing when you need some comfort food.
You're welcome.
Ingredients
1 tablespoon Olive oil
1 pound Kielbasa sausage, cooked and sliced
1 Red bell pepper, chopped
1 Green bell pepper, chopped
1 Onion, chopped
1-2 teaspoons Mad Dog 357 Scorpion Hot Sauce
1 can (14 oz.) diced tomatoes (do not drain)
2 Bay leaves
1 tablespoon dried thyme
1 teaspoon dried oregano
1½ cups Dry long-grain rice
2 cups Chicken stock
Preparation
Heat the oil in a large, heavy-bottomed, or cast iron pot over medium-high heat. When it's hot, add the Kielbasa to the pot. Try to get each piece with one side touching the bottom of the pot, then cook for about 2 minutes. Flip the sausage slices and cook for another 2 minutes.
Add the vegetables to the pot along with the Mad Dog 357 Scorpion Hot Sauce and cook, stirring regularly for 4-5 minutes, until just softened and starting to brown.
Add the undrained tomatoes, bay leaves, and spices and stir well to combine.  Then, reduce the heat to medium and add the uncooked rice and chicken stock. Allow the mixture to boil and cook, without stirring, until the liquid level falls below the rice. Then, reduce the heat to low, cover the pot and cook for 15 minutes.
Stir everything together, then discard the bay leaves and serve hot with a little extra Mad Dog 357 Scorpion Hot Sauce on the side