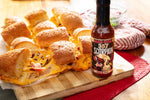 Simple, swift, and with the sting of a scorpion all rolled into one.
These little sammiches are the best for snacks, last-minute suppers, lunch boxes, and because you couldn't help yourself. Basically, this is the recipe you've been waiting for.
Makes: 12 sliders
You'll need:
1 tablespoon Mad Dog 357 Scorpion Hot Sauce
¼ cup each: Ranch dressing, melted Butter
12 Slider rolls
12 ounces Chicken nuggets, cooked
6 slices Bacon, cooked and crumbled
8 ounces Monterey jack cheese, shredded
2 tablespoons grated parmesan cheese
Oven preheated to 350°F
Preparation
Combine the Mad Dog 357 Scorpion Hot Sauce with the ranch dressing. Set aside. Arrange the bottoms of the slider rolls in a baking dish. Top with the chicken nuggets then spread over the Scorpion ranch. Evenly sprinkle over the bacon and Monterey jack cheese (and perhaps a few more drops of Mad Dog 357 Scorpion Hot Sauce). Add the tops of the rolls, then brush the butter over the tops. Sprinkle over the parmesan. Place baking dish in the oven and cook for 15 minutes, until the cheese is melty.