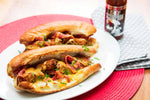 You can't just have regular fried chicken on National Fried Chicken Day
You need to dress it up a bit – and that's where a couple of dogs come into play.

The first dog? A Mad Dog, of course – and one with the sting of a scorpion. The others are a couple of hot dog buns. Once you've put it all together, you're going to find yourself chewing on your own slice of fried chicken heaven.

And this recipe for 4 is also more simple than you might imagine, making it perfect for lunches – or a snack as you're waiting to get your super fried chicken fix on.

Oh, and did we forget to mention the bacon and cheese?
Yeah, you'll want those for sure – and we've got them for you; don't worry!


Ingredients
1-2 teaspoons
Mad Dog 357 Scorpion Hot Sauce
8 teaspoons Honey mustard sauce
4 each Hot dog buns, lightly toasted
4 slices Bacon, cooked and crumbled
4-8 pieces Fried chicken tenders, cooked
4 tablespoons Cheddar, shredded
Preparation
Preheat your oven to broil. Line a baking sheet with foil and set aside.
In a small bowl, combine the
Mad Dog 357 Scorpion Hot Sauce
with the honey mustard sauce and set aside.
Place the hot dog buns on the baking sheet and divide the crumbled bacon between them. Top with enough chicken tenders to really fill each bun, tearing them as needed. Sprinkle over the cheese, then place the baking sheet under the broiler and cook until the
cheese
is melty – about 1 minute.
Pour over the Mad Dog honey mustard sauce and watch as everyone devours their dogs in minutes.