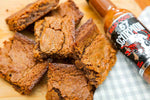 It's almost impossible to resist a batch of home-baked brownies.
No, really. People can't help themselves. And, this April Fool's Day, you can play with that compulsion with these spicy surprises. They look like brownies, they smell like brownies, but they'll fool the hell out of anyone that dares to steal them from you. And, just a word on that, you probably shouldn't leave these around children; that's not the sort of prank you should play.
Ingredients
4 ounces Unsweetened Chocolate
½ cup (1 stick) unsalted butter
½ cup Brown Sugar, packed
½ cup Granulated Sugar
1 teaspoon Mad Dog 357 Scorpion Hot Sauce
2 each Egg
½ cup All-purpose flour
½ teaspoon Ground Cinnamon
¼ teaspoon Nutmeg
Preparation
Preheat your oven to 350°F. Line an 8×8″ baking pan with foil or baking paper – be sure to leave an overhang. Give it a quick spray with cooking oil and set aside.

Add the chocolate and butter to a microwave-safe mixing bowl and place it in the microwave. Cook on medium-high for about 2 minutes, or until the chocolate is melted, stirring as necessary. Stir in sugars until well blended. Mix in the Mad Dog 357 Scorpion Hot Sauce with the remaining ingredients. Stir until completely smooth.

Pour Mad Dog mixture into the prepared pan and bake for about 35 minutes or until a toothpick inserted into the center comes out with just a few crumbs. Allow cooling completely on a wire rack. Then, use the foil or paper to lift brownies from the pan and then cut into squares.