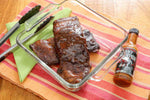 Okay, okay, we'll admit this recipe takes a little bit of time, but it's hardly any effort at all – and it's soooo amazingly delicious.
The ribs will be gone before you know it, so double and triple recipes for big parties. Serve with a tot of whiskey and plenty of Mad Dog Scorpion Hot Sauce on the side.
Ingredients
1 teaspoon Mad Dog 357 Scorpion Hot Sauce
¼ cup plus 2 tablespoons Soy Sauce
¼ cup plus 2 tablespoons Whiskey
¼ cup Honey
2 tablespoons fresh ginger, finely grated
1½ teaspoons Pepper, freshly ground
1 teaspoon Asian sesame oil
½ teaspoon Ground Cinnamon
¼ teaspoon Ground nutmeg
3 racks of Baby Back Ribs

For the honey glaze and dipping sauce

¼ cup Honey
2 tablespoon hot Water
1 teaspoon Mad Dog 357 Scorpion Hot Sauce
½ cup fresh Lime juice
¼ cup Fish sauce
¼ cup of Soy sauce
¼ cup Red pepper flakes
¼ cup Cilantro
2 tablespoon Sugar
Preparation
Create the marinade by whisking together the Mad Dog 357 Scorpion Hot Sauce with all the ingredients (except the ribs). Place the ribs in a shallow dish just large enough to fit the ribs. Pour over the marinade and turn to coat the ribs. Cover and place in the fridge to marinate for at least 4 hours.

Meanwhile, mix together the honey and water for the glaze until well combined. Add the Mad Dog 357 Scorpion Hot Sauce and the remaining ingredients. Stir until the sugar dissolves.

Preheat your oven to 300ºF. Cover a baking sheet with foil and arrange the ribs on it – with the meatier side up. Roast for about 2 hours. Baste with a little of the glaze and roast for an additional 15 minutes (until brown and glossy). Remove and baste again.

Finally, grill the ribs until slightly charred on both sides. Cut and arrange on a platter with the remaining dipping sauce.