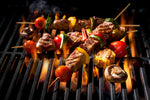 Love celebrating the long days of summer with a cookout?
Don't need an excuse to light the grill? This steak marinade, created for BBQ cooking is sure to tempt you. In fact, you may become addicted to it after one bite of your delicious steak.

Ready to make it even better? Try your steaks with some grilled (or stir-fried) veggies and this Unforgettable Sriracha Sauce.
You'll want it with everything. You're welcome.
Ingredients
4 Steaks – your favorite cut, just remember the thicker they are, the longer they'll need to cook

For the marinade

1 teaspoon Mad Dog 357 Reaper Sriracha Hot Sauce

1/3 cup soy sauce
1/2 cup olive oil
juice from a freshly squeezed Lemon
1/4 cup Worcestershire sauce
1 clove garlic
a small handful of fresh parsley leaves
1 teaspoon Black pepper

For the Unforgettable Sriracha Sauce

3 tablespoons Mad Dog 357 Reaper Sriracha Hot Sauce
1 cup of Mayonnaise
1 tablespoon Mirin or sweet rice wine
1½ tablespoons Worcestershire sauce
2 tablespoons Soy sauce
juice from half of a freshly squeezed Lemon
Salt, to taste
Preparation
Mix the marinade several hours before you plan to BBQ your steaks. Just blitz all the ingredients together in a blender or food processor. Place in a pan or bowl with your steaks (aim for something small so your meat is covered with the marinade), cover, and place in the fridge for up to eight hours before cooking. When it is time to grill your steak, cook according to the cut and baste steaks with marinade every time you turn them.

To make the sauce, mix all the ingredients together in a bowl and cover. Set aside for at least 30 minutes before serving.