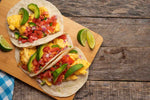 It's not as if you need an excuse to
 

indulge in a hot breakfast, especially on the weekend.

Right?

And, you hardly need a reason to indulge in your favorite Mad Dog hot sauces.

So, you may as well combine the two and enjoy it. And, as you'd imagine, we've collected the best hot breakfast ideas that are, well, hot as hell.
That's thanks to our Mad Dog hot sauces.
Each one of these recipes is tried, tested and totally on fire:
There's a reason breakfast is hailed as the most important meal of the day. Your body craves sustenance after the long hours of rest (which you most certainly got, right?).
But, there are more reasons to break your fast with our super hot sauces. They're filled with all sorts of vitamins, especially vitamins A and C. Plus, the capsaicin will jump-start your metabolism to get you burning all the amazing hot breakfast meals you can't live without.
It's not really a question whether you should be eating a hot breakfast filled with all the fire Mad Dog hot sauces offer; it's really a question of which one you should make first.
Change your morning. Get more Mad Dog today!