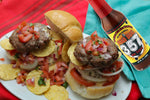 These double cheeseburgers are big, they're messy, and you'll get plenty of 357 in every bite.
We've added it to every single element of this recipe to truly take advantage of all the flavor it adds – as well as the heat.

This recipe is simply decadent, so we understand that you can't make it every day, but we already know you'll have a difficult time keeping it off your weekly rotation.
Really, once you take your first bite, you'll believe it too.

Ingredients:
For the 357 Salsa

½ tablespoons Mad Dog 357 Hot Sauce
3 tablespoons Red wine vinegar
1 tablespoon Olive oil
3 Tomatoes, finely diced
½ Red onion, finely diced
3 tablespoons fresh cilantro, chopped
Salt, to taste

For the 357 Burgers

2 pounds Ground beef
2 tablespoons Mad Dog 357 Hot Sauce
Salt and pepper, to taste

For the 357 cheese sauce

1 tablespoon butter
1 tablespoon all-purpose flour
½ tablespoons Mad Dog 357 Hot Sauce
1½ cups Milk
½ pound Monterey Jack cheese, shredded
2 tablespoons Pecorino cheese, freshly grated
Salt and pepper, to taste

For serving

4 Hamburger buns, split
Tortilla chips
Preparation
Preheat the broiler on your oven to high. Line a baking sheet with parchment paper and set aside.

Add the Boomslang Ghost Pepper Hot Sauce with the remaining ingredients for the Boomslang Salsa in a mixing bowl, and season to taste. Set aside until ready to use.

For the hamburgers, combine the Mad Dog 357 Hot Sauce, the ground beef, and salt and pepper, to taste. Form into 8 patties and place on the prepared baking sheet. Place in the oven and broil, flipping once, until cooked to your liking, then remove from the oven and keep warm until ready to serve.

Meanwhile, prepare the cheese sauce by melting the butter in a large saucepan. Whisk in the flour and stir to combine. Then whisk in the Mad Dog 357 Hot Sauce and the milk. Continue to whisk while the sauce cooks and thickens. It should take about 5 minutes. Then add the Monterey Jack cheese and stir until it melts completely. Stir in the pecorino cheese with the salt and pepper, to taste, and remove from the heat.

To assemble the burgers, place a cooked hamburger patty on a bottom bun, top with the cheese sauce, then a second patty and more cheese sauce, then add some chips and plenty of salsa before adding the top of the bun. Repeat with the remaining burgers and serve with a bottle of Mad Dog 357 Hot Sauce on the side.