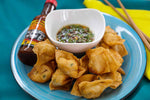 Wow! We know you're going to fall in love with this dipping sauce.
It's easier to prepare than you might think and it goes down a treat any time of the year. It will take you about 20-25 minutes to prepare this dish, which should make about 12 wontons. But, let's face it; the Cheeky Chili Dipping Sauce is what will turn everyone's heads. So, feel free to buy pre-prepared wontons and just make the sauce.
We would.
Ingredients
For the Cheeky Chili Dipping Sauce
1 teaspoon Mad Dog 357 Hot Sauce
3 tablespoons Thai sweet chili sauce
2 teaspoons Lime juice
1 tablespoon cilantro leaves, chopped
Pinch of white sesame seeds
For the Chinese Wontons
½ pound Ground chicken
¼ pound Shrimp, finely chopped
1 stalk Scallion, sliced
½ teaspoon Cornstarch
¼ teaspoon Salt
½ teaspoon Sesame oil
3 dashes ground white pepper
Wonton wrappers
Water, for sealing
Oil, for deep frying
Preparation
Prepare the Cheeky Chili Dipping Sauce by combining the Mad Dog 357 Hot Sauce with the remaining ingredients in a mixing bowl. Then, set aside.
Mix the ground chicken, shrimp, scallion, and cornstarch in a separate mixing bowl until well combined. Mix in the salt, fish sauce, sesame oil, and white pepper – then set aside.
Form the wontons by placing a piece of the wonton wrapper on your palm, adding a tablespoon of the filling in the middle of the wrapper (more or less depending on the size of your wrappers and desired final size). Dip your finger into the water, trace it along the outer edges of the wrapper, then fold and pinch closed the edges of the wonton wrapper.
Heat the oil in a wok or frying pan and deep fry the wontons until golden brown. Drain on paper towels and serve the wontons with the Cheeky Chili Dipping Sauce.